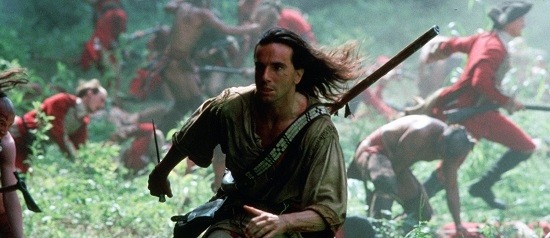 SERIES
The Last of the Mohicans Times Three
October 22
Organized by film critic and author Matt Zoller Seitz
Twenty-five years after its release, Michael Mann's The Last of the Mohicans stands as one of the director's greatest achievements. It is a symphony of light and sound, featuring some of the director's most hypnotic vistas and kinetic sequences. It is also one of his purest love stories, between Nathaniel (Daniel Day-Lewis), the adopted white son of a Mohican warrior, and Cora (Madeleine Stowe), an English general's daughter. The movie is also a remake of sorts that owes more to the 1936 film The Last of the Mohicans directed by George B. Seitz and written by Philip Dunne, than to James Fenimore Cooper's 1826 novel.
Mohicans is a study in revision. Mann, a habitual re-cutter of his own work, has released multiple versions. Each one adds and deletes moments and shots in ways that don't pad the running time much, yet somehow alter the audience's perception of what kind of movie they're watching. The original theatrical cut, which runs 112 minutes and will be shown in 35mm, plays as a lean spectacle that foregrounds intrigue, violence, and romance. The 117-minute director's cut feels more like a Barry Lyndon–style period drama, more contemplative than kinetic, delving into the nuances of the period more thoroughly.
Matt Zoller Seitz will introduce each screening in this unprecedented triple-feature presentation of the 1936 Hollywood film and two versions by Michael Mann.
Triple-feature pass: A limited number of $30 passes for admission to all three films is available. Order the Last of the Mohicans Triple Feature pass here.

Note: All screenings are free for Museum members at the Film Lover and MoMI Kids Premium levels and above. A Film Lover membership, which includes free admission and reservation privileges to regular screenings, begins at $100. For more information and to join, click here.