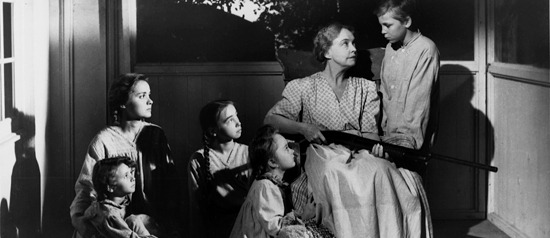 Screening
The Night of the Hunter
Part of Inspiring Wonderstruck
Sunday, October 15, 2017, 4:00 p.m.
Museum of the Moving Image - Redstone Theater
Dir. Charles Laughton. 1955, 92 mins. DCP. With Robert Mitchum, Shelley Winters, Lillian Gish. "Both Night of the Hunter and Walkabout were movies that Todd recommended we watch to look at great performances by children. Night of the Hunter has long been one of my favorite films, a kind of gothic fairy tale lullaby, with two extraordinary siblings hunted by a nightmarish Robert Mitchum. The kids are saved by the angelic Lillian Gish. Long past her silent movie heyday, she makes it feel as if the history of cinema itself has come to save the children."—Brian Selznick

Tickets: $15 (Free for members at the Film Lover level and MoMI Kids Premium levels and above). Order tickets online. (Members may contact members@movingimage.us with questions regarding online reservations.)

Ticket purchase includes same-day admission to the Museum (see gallery hours). View the Museum's ticketing policy here. For more information on membership and to join online, visit our membership page.