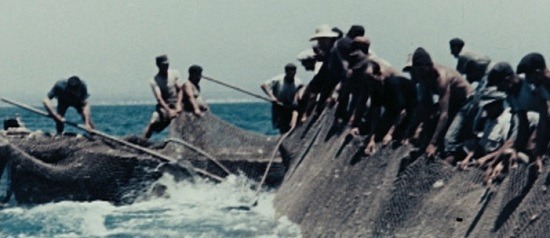 Screening & Live Event
Five Provincial Scenes by Vittorio De Seta
With introduction by guest curator Jason Kohn

Dir. Vittorio de Seta. 1955, 52 mins. Archival 35mm print courtesy of Cineteca di Bologna. Forswearing narration, these miniature landscapes from Vittorio De Seta immerse viewers in the rituals of pre-modern Italy so deeply as to induce a state of virtual hypnosis. In
Isole di Fuoco
, a beachside village maintains its tenuous existence at the foot of a volcanic island. In
Sufarara
, a day in the life of a sulfur mining town unfolds from dawn to dusk.
Pasqua in Sicilia
observes the pagan-inflected Easter celebrations of rural Sicily, while
Contadini del Mare
and
Parabola d'oro
capture the see-sawing rhythms of languid anticipation and feverish exertion attending the labors of tuna fishermen and wheat harvesters alike. Shot and edited by De Seta himself, these depictions of vanished practices and traditions themselves represent a hand-crafted approach to filmmaking seldom recovered in the digital age. Preceded by
Ama Girls
(Dir. Ben Sharpsteen, 1958, 29 mins, 35mm). An Oscar-winning entry in Walt Disney's long forgotten
People and Places
series,
Ama Girls
depicts the ancient practice and daily existence of Japan's famed female pearl divers.
Tickets: $15 ($11 seniors and students / $9 youth (ages 3–17) / free for children under 3 and Museum members at the Film Lover and Kids Premium levels and above). Order tickets
online.
(Members may contact
members@movingimage.us
with questions regarding online reservations.)
View the Museum's ticketing policy
here
. For more information on membership and to join online, visit our
membership page
.